The Conformists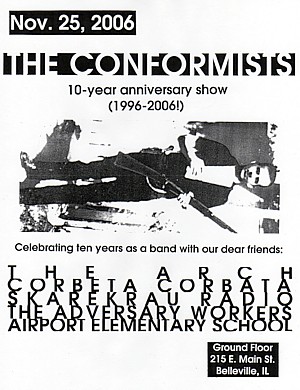 One last thing for this evening -
The Conformists'
10th Anniversary show is tonight at the
Ground Floor
in Belleville. If you have never seen The Conformists live, they are somehting to behold. A band has to be tight to play music that so sounds like it's about to derail at any given moment, and The Conformists are one of the tightest bands around.
The band's newest album,
Three Hundred
, was produced by Steve Albini and is coming out soon on
54º40' or Fight! Records
.
MP3's:
The Conformists - Tax Deduction
The Conformists - Are These Flowers?
The Conformists - These Are Not Flowers